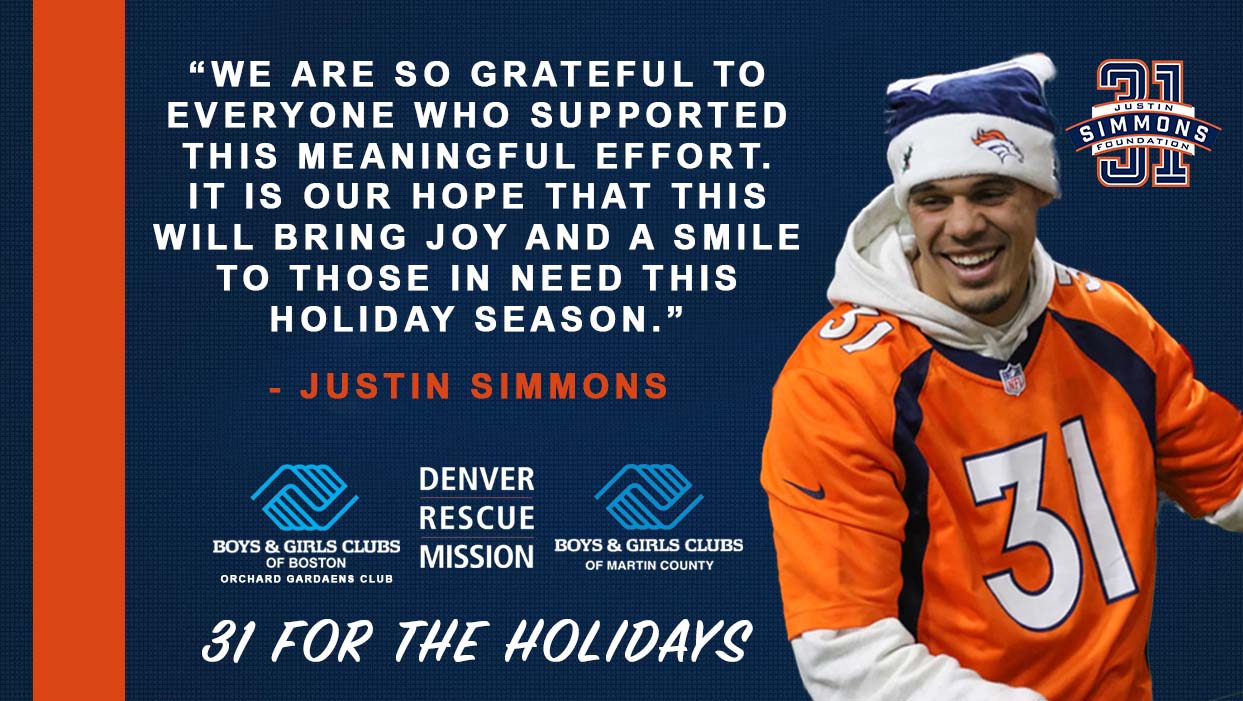 The Justin Simmons Foundation Announces Grants In Support Of Those In Need This Holiday Season
Denver, CO (December 16, 2020) – It was announced today that the Justin Simmons Foundation will award grants to three charitable organizations to provide over 130 children holiday gifts and directly support 25 families. The grants will support children and transitional families in Denver, Boston and South Florida.
These grants were made possible by success of the foundation's first initiative, 31 For The Holidays, where more than 360 donations at a minimum of $31 were contributed over 31 days. The beneficiaries are the Denver Rescue Mission; Boys & Girls Club of Boston – Orchard Gardens Club; and the Boys & Girls Club of Martin County (FL).
"We are so grateful to everyone who supported this meaningful effort," said Justin Simmons. It is our hope that this will bring joy and a smile to those in need this holiday season."
About the Justin Simmons Foundation
The Justin Simmons Foundation is dedicated to mentoring young people, promoting the benefits of youth sports, supporting youth education and other charitable initiatives. It was established in 2020 by two-time Walter Payton Man of the Year Denver Broncos Safety Justin Simmons and his wife Taryn.
About the Denver Rescue Mission
Denver Rescue Mission has been serving the most vulnerable in our community for more than 128 years. Our history is rooted in a love of Christ and a commitment to share that love with others. At multiple locations throughout our community, we help restore the lives of people experiencing homelessness and addiction through emergency services, rehabilitation, transitional programs, and community outreach.
About the Boys & Girls Club of Boston
The mission of Boys & Girls Clubs of Boston is to help young people, especially those who need us most, build strong character and realize their full potential as responsible citizens and leaders. We do this by providing: a safe haven filled with hope and opportunity, ongoing relationships with caring adults and life-enhancing programs.
About the Boys & Girls Club of Martin County
We believe every kid has what it takes. The mission and core beliefs of Boys & Girls Clubs fuel our commitment to promoting safe, positive, and inclusive environments for all. Boys & Girls Clubs of America supports all youth and teens – of every race, ethnicity, gender, gender expression, sexual orientation, ability, socio-economic status, and religion – in reaching their full potential.